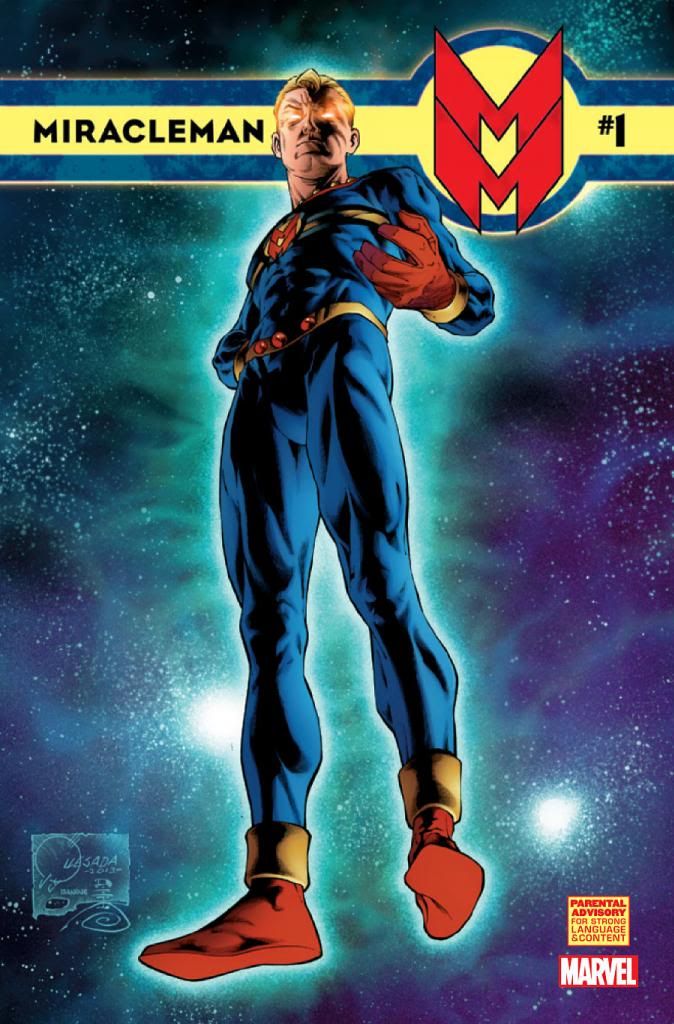 Written by The Original Writer
Art by Gary Leach
Colour art by Steve Oliff
Lettering by Chris Eliopoulos
'The Invaders from the Future'
'Marvelman and the Atomic Bomber'
'Marvelman and the Stolen Radium'
Written and drawn by Mick Anglo
'The Invaders from the Future'
Art by Don Lawrence
Published by Marvel
£3.25, as long as you have that SuperCard Go! That was first published years ago…
Let's get this out of the way first, Miracleman has one of the most complex, storied histories of any title in the last three decades. The question over who held what rights bounces through a good chunk of the comic industry and is, if you're so inclined, fascinating reading. If you're not it really, really isn't. I'd recommend starting with Pádraig Ó Méalóid's work on the story. You'll find out how much you care pretty quickly.
What matters here though, is the book. Let's talk about the art first. Mick Anglo, the creator of the character, has a clean style that manages to have weight but still feel expressive and fast. You get three examples of that work here and it's all lovely, classically pulpy stuff. Anglo also turns up in conversation in one of the two text features in the issue and comes across wonderfully; a charming, funny gentleman who is politely surprised people still know his work.  Incidentally, if you don't, the other non-fiction in here is a basic but solid history of the character.
Then there's the book itself. Leach's artwork is beautiful stuff, and the remastering that's been done on it is very impressive. Leach has an eye for the normal person, and the characters here all feel grounded and realistic. Even Miracleman himself, for all his undoubted superhumanity, is far from the hypermuscled Olympian that's still too often the superheroic baseline. He's a rangy, nimble figure, undoubtedly powerful but fragile with it. Steve Oliff's colour work is excellent, a slightly muted palate making the moments of explosive action all the more powerful. Chris Eliopoulos' lettering also impresses, matching the subtly different beats of the book's original release with a modern, effective style.
But that's not really what you want to read about is it? You want to read about the Holy Grail of superhero comics, the book that influenced everything and everyone that followed. There's a case, and it's a strong one, for this being the root of every single influential book that's followed it. So many of the driving tropes of the '90s especially (Complex, ethically nuanced heroes, state secrets and brutal, nightmarish violence) are laid in here so strongly that it's difficult to see any other option.
It's also difficult to see the book. That, more than anything else is a reason to celebrate its final return to print because, at last, we can get a clear look at this remarkably story. Miracleman is a deeply British superhero and this is an intensely British comic, starting at a nuclear power demonstration and finishing with an evil industrialist. Crucially it's what's in the middle that really hits home and does so with real poignancy. Mike Moran's heroic past life is idealised certainly but it's also wonderful, and the book gets a lot of dramatic tension out of seeing that collide with his present day. There's also vast amounts put in place for future issues here so be sure to read closely. The Original Writer knew his stuff.
This is essential, for fans of the Original Writer and any major superheroic work published in the last couple of decades. The dialogue is a little mannered, certainly, but the book still feels fresh and relevant, even today. Lovingly restored and finally back on the shelves this is a modern classic in every sense of the word. I envy anyone finding it for the first time. Buckle up, you're in for an amazing ride.