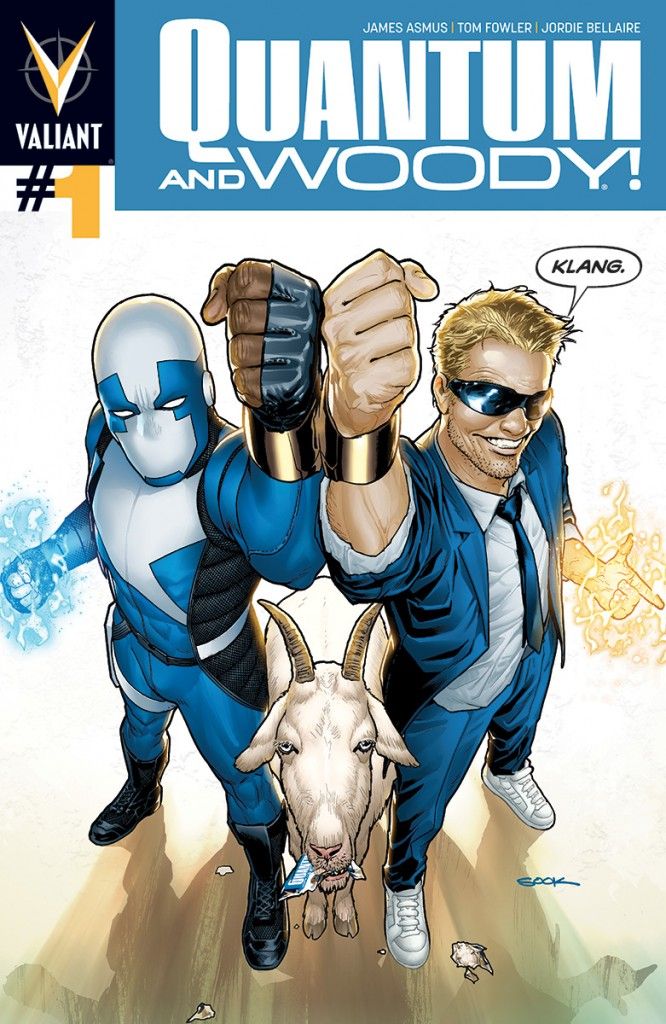 Quantum and Woody
Written by James Asmus
Pencils by Tom Fowler
Color Art by Jordie Bellaire
Letters by Dave Lanphear
Published by Valiant
£2.85 (Issues 1 and 2 both out)
Eric is an athlete, a security industry professional and within sight of a genius. Woody, his adopted brother is…frequently very well dressed. The two men are brought back together by the death of their father and discover three things in short order; they still can't stand one another, their father was murdered and his research (And Eric pushing a button) has changed them both forever. Their first job is not to get killed by the cops. Their second is to find whoever killed their father. Their third is to not kill each other.
The original run of Quantum and Woody, available now on Comixology and absolutely worth your time and money by the way, is one of those comics written across my soul. Written by Christopher Priest and with art by MD Bright it arrived as I was making my way through University and was one of the things that helped me through the bad times. It was fiercely clever, had a real emotional core and relentlessly funny.  I love it to tiny pieces and always will.
I mention this for two reasons. Firstly because I love the book and still evangelise about it even now and secondly because that love makes me the definition of a hard sell for this reboot. Same characters, same basic concept, subtly different background. Done wrong, it would feel, to me, like changing the leads in my favourite TV show and hoping no one noticed.
It's not done wrong. Not at all.
One of the most entertaining things about the original was that it wilfully screwed with the passage of time. Asmus builds on that, opening with the boys falling out of a building in full superhero garb and then rolling back to show them apart, then together, then fighting, then arrested. There's more of a direct bite to their relationship, a stronger undercurrent of real anger and that actually strengthens the central premise. These two men are legitimately furious with one another and whilst the first issue sometimes overplays that a little, it gives the book a welcome, hard edge. Neither of them feel like forgiving the other, neither had a happy childhood and giving them a single father actually strengthens the premise of the book. Two brothers rather than two friends, joined not only by their father's technology but a mutually fairly awful childhood. It's a smart twist on their origin and raises the dramatic stakes very nicely.
That isn't to say this is a grim book because it really isn't. Woody is one of the greatest impulse-free sidekicks of the last twenty years and Asmus really lets him off the chain in the second issue. Woody's endlessly articulate, bores easily and looks good in a suit. He also lives to mess with Eric and the end result is wonderful. I especially love his choice of the Dukes of Hazzard theme as getaway music.
The other half of the book's other dynamic duo, Tom Fowler, also takes a couple of pages to find his feet. However, his brawny style really kicks into high gear at the same time as Asmus' script. The wonderfully absurd rolling action sequence that starts in series 1 with the boys breaking into their dad's lab and finishes with them naked and running from the cops in issue 2 is where both creators hit their stride. It's fast, full of great Woody one liners and action beats and crammed full of a real sense of jeopardy. Before that, the book's good. After it, the book's great.
Jordie Bellaire is one of the best colourists working today and these two issues are a perfect example of why. Changing gear from the enriched colour of Woody's 'hype video' to the snowy cold and orange explosions of that action sequence her work is never less than impressive and never less than vital to the book's look and feel. Dave Lanphear's lettering is also fantastic, juggling multiple speech patterns and sound effects with total ease.
Honouring the original but still feeling like its own book, Quantum and Woody is great fun. There's enough old stuff here to keep fans like me happy, and enough differences to bring in new fans.This is confident, frequently absurd and always massively entertaining superhero comics. The boys are officially back with a klang.