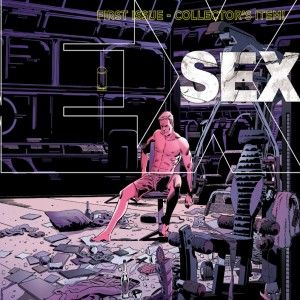 Sex
Issue 1
Written by Joe Casey
Art by Piotr Kowalski
Colours by Brad Simpson
Letters by Rus Wooton
Graphic Design by Sonia Harris
Issue 1: 'The Summer of Hard'£2.20(Or £1.70 with your Super Card Go! Card)
Let's get the very obvious out of the way first; of course this is a Mature Readers Only title, that much is apparent from the title alone. This is a book is about sex, about what people like, what they don't, and most of all about sex as the ultimate act of human intimacy. You will see, if you read this, two women, both wearing masks, having sex, whilst the main character watches.
And isn't it funny that the moment I describe exactly what it is it loses all hints of titillation? Weird how the human mind works.
So, yes, the book's called Sex and it's about Sex.
Except it isn't.
Or isn't just about sex at any rate. Casey's script follows Simon Cooke, an eccentric young billionaire (And already we can see where this is going, can't we?) returning to reclaim the family business in Saturn City after years and years away. Saturn City is a demented, circular Manhattan, an island fortress of skyscrapers and big business. Cooke fits right in, every inch the erratic young playboy, distracted by his return from the wilderness.
But we know the truth, because this is a comic and we've seen this sort of man before.
We see Cooke arrive, see him meet his aide Miss Lorraine and almost offhandedly promote her. Then, he hits the gym and everything we thought we knew is confirmed. Simon is an Olympic level gymnast, an extraordinary athlete and, of course, an ex-super hero. The Armoured Saint, Simon's alter-ego cleaned up Saturn once and for all, but, of course, once and for all doesn't last very long. Now, Simon's returned and as he sees what the city's become, and the villains continue to circle one another and wait for the first shots in the inevitable war to be fired, Simon finds himself distracted, detached from his company, his past, his alter-ego and even his senses. Simon Cooke is back in Saturn City, but not all of him has returned and The Armored Saint? Is nowhere to be found.
This is a familiar story to anyone who's read Batman, the work of Rick Veitch or Watchmen and Casey is remarkably upfront about his influences. Simon Cooke is every inch the billionaire playboy, so much so you know instinctively he has a shelf of Richard Castle books, plays golf with Tony Stark, attends Bruce Wayne's fundraisers and swaps business cards with Patrick Bateman. The only difference is, where each of them, even Bateman, has found a way to feel, Simon Cooke has found a way to cut himself off and can't find a way back.
Which is where the sex comes in. We see Simon watch two women, dressed, sort of, as superheroes have sex and all it is, for him, is a carrier wave back to the memories of why he gave up on his other life. We don't have much context for this yet, but what we see implies, heavily, that Simon may be more of a Peter Parker than a Bruce Wayne. His promise to a dying relative to give up the superhero life is both very sweet and clearly very painful and one of the book's best transitions is Simon, in the past, agreeing to give up, cutting to Simon, dead-eyed, watching the two women have sex. This is a man so far gone he isn't even unhappy. He's just there. He's just numb. Until, right at the end of the book, he has reason not to feel something…
So what is Sex really about if it isn't about sex? Honestly, this is a book about the illicit thrill of sensation, of being woken up by the shock of adrenalin coursing through your system as you do something you know you shouldn't. For some people the thrill comes from booze or drugs, for others its sports or violence, for others it's sex and for still others, its knowledge. Simon, judging by this first issue, is in the market for booze, violence, maybe sex and definitely knowledge. It's an interesting, and brave, idea, using the most controversial topic on the planet as a means of framing something which looks to be one part superhero story and one part character study, even more brave given the previous authors who've taken this road. By and large, Casey more than carries his weight too, with some interesting echoes of Simon's problem in the three members of the villain community we meet. Everyone has a void in their lives, Simon from giving up The Armoured Saint and the villains from missing someone to clash with and the seemingly inevitable return of the hero will be, oddly, of as much benefit to them as to Simon.
Casey also pushes the boat out with some difficult script and formatting that, by and large, works very well. The pages are three or four tiers of panels, alternating between close in character work and opening out into reveals that really highlight the key moments, in particular the introduction of The Old Man, the city's leading villain as well as a half page semi-splash of Simon's car on a riotous street crammed full of people, booze, and sex workers. Technically, the book varies between interesting and flat out audacious as characters are introduced across a scatter of panels who will no doubt become vitally important in later issues, time stretches or condenses at Casey's whim and the actual sex scene is a backscatter of light and sound, memory and industrialized sensation that plays a little like Michael Mann scripted the issue at the height of his '80s powers. This is clever stuff, and anyone expecting a porno is going to be sorely disappointed.
However, the real stars here, if I'm being entirely honest, are the art team. Kowalski's style is line light but detail heavy and he nails the different time periods we see effortlessly. The Saturn City reveal is particular good, as is the previously mentioned panel of Simon's car. Each character is distinct, each panel has authority and structure to it and his style echoes Dave Gibbons' just enough to hit the Watchmen-stylistic notes Casey seems to be shooting for.
However, Brad Simpson doesn't just steal the book, he changes the number plate, strips it for parts and sells it back to you cheap. The colour work here is amazing, there's absolutely no other way to describe it. The book uses colour to differentiate between time periods and mood and whether it's the purple and yellow drenched sex club, Simon's blank, blue-shaded face or the sun drenched dinner he eats in, each of these people and places are utterly fascinating to look at it. Simpson's work doesn't just mesh with Kowalski's it complements and builds on it to make this one of the most beautiful books on the shelf right now.
So is it any good?
Yes. Absolutely. This is a technically brilliant re-telling of a familiar superhero story through an unfamiliar lens and the execution is never less than flawless. If the book has a flaw, and it does, it's the marketing. Casey's closing essay, introducing 'Dirty Talk' the book's combination back matter and letters page does a decent job of burning off a lot of the good will the book itself has garnered. He vacillates wildly between articulate, interesting responses to some honest questions and the sort of 'YEAH, BRO! COMICS!' pseudo-macho call to arms that's a good five years out of date at this point. Yes he's right, indie titles consistently take more risks and offer more rewards and yes people should read more than just what the Big Two companies put out but all of this has been said before, and said better. To make matters worse, the book's marketing campaign does the exact thing the book doesn't, use sex as a selling point for Sex. This is, word for word, the advertising copy for issue two:
'Saturn City holds many mysteries—can plain ol' Simon Cooke, civilian-at-large, solve ANY of them?'
Alright so far.
'If you want to sweat and feel weird all over, don't miss the NEXT heart-stopping issue!'
Oh dear.
If you can ignore this, and you really should, there's a lot to enjoy here, especially for people who've been itching for a new dissection of superheroism as fetish or sub-fetish. This is a smart, daring book with heartbreakingly wonderful art that does something unusual and daring. It's interesting work and it's being marketed as anything but. Don't believe the hype. But do read the book.
Alasdair Stuart